Position and area: Shaanxi Province ("Shaan" or "Qin" for short) is in the hinterland of China. It is located in an important position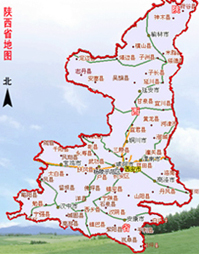 that connects East China and Central China as well as Northwest and Southwest China, with Shanxi and Henan to its east, Ningxia and Gansu to its west, Sichuan, Chongqing and Hubei to its south, and Inner Mongolia to its north. The origin point of China is located in Yongle Town, Jingyang County, Shaanxi Province. The total area of Shaanxi Province covers 205,800 square kilometers.
Landforms: Shaanxi is narrow in geographic region. It is 870 kilometers long from South to North, and 200 to 500 kilometers wide from East to West. According to the geographical features, from North to South, Shaanxi has three landform regions: Loess Plateau in the North, Guanzhong Plain in the center, and Qinba Mountainous Region in the South. The main mountains include Qinling Mountain, one of the dividing lines between the North and South of China, and Mount. Hua, one of the four most famous mountains in China.
Climate: Shaanxi traverses three climate belts. Therefore, the climate varies greatly from north to south. South Shaanxi features a subtropical climate while most areas in Guanzhong and North Shaanxi have a warm temperate climate. In general, it is dry in spring, with little precipitation and frequent sandy conditions. The four seasons are quite distinct. In summer, the temperature is high with more rainy days. In autumn, it is cool and humid, and the temperature drops rapidly. In winter, it is cold and dry, with low temperatures and less rain and snow. The average temperature of the province is 13.7 °C , and the temperature decreases successively from South to North and from East to West. Precipitation is greater in the South than in the North. The Northern part of Shaanxi is cold in winter and very hot in summer, with a dry winter and spring season. Its southern portion generally receives more rain. Annual mean temperature is roughly between 8 °C and 16 °C, with January temperatures ranging from −11 °C to 3.5 °C and July temperatures ranging from 21 °C to 28 °C.
History and Culture: Shaanxi is considered as one of the cradles of Chinese civilization. Thirteen feudal dynasties established their capitals in the province during a span of more than 1,100 years, from the Zhou Dynasty to the Tang Dynasty.
The Banpo Remains found in the east of Xi'an in 1953 shows the progress and civilization of the matrilineal clan society 6,000 years ago. The Tomb of the Yellow Emperor, the first ancestor of the Chinese nation, situated in Huangling County, North Shaanxi, is the symbol of the national Chinese spirit.
Shaanxi has served as the capital of the highest number of empires with the longest history. It has been the political, economic and cultural center of China for a long period of time and has left rich historical and cultural relics. Xi'an, capital of Shaanxi Province, is one of the six major ancient cities of the country. More than 2,000 years ago, the Silk Road, with ancient Chang'an as the starting point, made Shaanxi the cradle for the opening of the country. Thus, the ancient city Chang'an became a renowned distributiing center in trade and business between China and western countries.
During the Tang Dynasty Shaanxi witnessed the cultural exchange between China and Japan, and also Southeast Asia and Korea. The language of Zhou Dynasty, garments of Qin Dynasty and ceremony of Tang Dynasty still have a presence in these countries and regions.
In modern times, Shaanxi was one of the first groups of provinces announced to be independent in the Wuchang Uprising. In particular, the CPC Central Committee led the War of Resistance against Japan and the War of Liberation in North Shaanxi, laying the cornerstone for the New China whilst fostering the spirit of Yan'an
Administrative Divisions: Shaanxi Province has 10 municipalities and Yangling Agricultural High-tech Industry Demonstration Base. There are three county-level cities, 80 counties and 24 city districts, 1,581 towns and townships and 164 street offices under its jurisdiction.
Tourism Resources: Shaanxi is one of the richest tourism resource based provinces in China. The province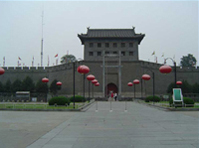 has a high-quality and large volume of tourism resources with a wide range of diversification and profound cultural accumulation. It also has extremely rich ground and underground cultural relics and is acclaimed as a natural history museum. Currently, Shaanxi Province has 35,800 cultural relic sites, 151 museums and 900,000 cultural relic items. Shaanxi Province ranks the first in the country for density, number and grade of cultural relics.
When visiting the natural history museum, relics of ancient cities and palaces, ancient temples, tombs and buildings, can be seen everywhere. An example of this is the Terrocotta Army Museum: the eighth wonder of the world.
Another example is the Qianling Tomb: the tomb of Wu Zetian, the first female emperor, and her husband Li Zhi; Also Famen Temple, a famous place for Buddhism; In addition, Xi'an city wall, the largest and most intact ancient city wall in China; Xian also hosts the Forest of Stone Steles, the largest stone stack room in China, and 72 tombs of ancient emperors.
In Shaanxi Historical Museum, there are bronze vessels from West Zhou, copper carriages from the Qin Dynasty, stone sculpture from the Han Dynasty and gold and silver vessels from the Tang Dynasty. There are also examples of china from the Song Dynasty as well as sculptures of different generations. These cultural relics have a splendid aura of history and reflect the charms of Zhou, Qin, Han and Tang dynasties in the past.
Shaanxi Province boasts not only rich cultural relics but also beautiful landscapes. West Hua Mountain is famous for its ruggedness. Besides, Hukou Falls of the Yellow River, the Loess Plateau, the 800-li Qin Mountain and the Qinba mountainous region, Lishan landscape area as well as Taibai Mountain, the main peak of Qinling Mountain, are all inviting with their distinct charms and characteristics.
Currently, Shaanxi has one world heritage site, i.e. the Mausoleum of the First Qin Emperor, and five national scenic areas, i.e. Huashan Scenic Area, Lintong Lishan Scenic Area, Baoji Tiantaishan Scenic Area, Tomb of Yellow Emperor Scenic Area and Heyang Hechuan Scenic Area. In 2007, Shaanxi Province listed six excellent tourism cities and one strong county for tourism. It has 81 A-class tourism scenic spots, of which, three are 5A-class scenic spots, 18 are 4A-class scenic spots, 31 are 3A-class scenic spots, 23 are 2A-class scenic spots and six are 1A-class scenic spots.
Over the years, Shaanxi people have created not only history, but also simple and unique folk-custom and folk arts. The famers' paintings from Huxi'an County, folk handicrafts from Xifu (clay sculpture, color painting, grass nude, wood plate and new year paintings), fireworks of Pucheng City, waist drum of Ansai, cheerful yangko from Northern Shaanxi and paper-cuts, have formed an important part of Shaanxi's tourism resources.
Although Shaanxi cuisine is not included in the eight major cuisines of the country, Shaanxi cuisine has its own style and strong characteristics of the locality. The food of Shaanxi is famous for its diversification, different tastes and ancient styles. Relished historically based dishes from over 10 dynasties such as Zhou, Qin, Han and Tang are available in Shaanxi, such as crispy pastry baked on hot cobbles in Guanzhong. This style of cooking descends from the cobble cooking style of ancient people, and noodles with ground pork, which was known as long-life noodles in the Tang Dynasty, was used by the royal family to celebrate their birthdays.
Even the dried persimmon, which appeared later, has a history of over 400 years. In particular, this cooking technique has progressed with the technical development in the past 20 years since the reform and opening up. Hundreds of traditional cuisines and innovative cuisines had appeared. Banquets with different styles were created, such as the Tang banquet, dumpling banquet, palace banquet, scorpion banquet, soup with bread banquet, banquet of eight landscapes of Chang'an and the local Shaanxi flavor snacks banquet. Shaanxi's snacks such as Pita Bread Soaked in Lamb Soup, the Chinese Hamburger, steamed cold noodles, and noodles with pork and pancakes are famous worldwide.
Education: In 2008, there were in total 95 institutions of higher learning in Shaanxi Province (of which, 76 are institutions of common higher learning). In that year, the number of college students recruited reached 276,300, an increase of 13.4% over the previous year. The student population reached 839,700, an increase of 8.3%. The number of graduate students recruited reached 24,100 and the number of graduate students in schools reached 74,400, an increase of 5.2%. In 2008, schools for adult higher education recruited 57,400 persons, an increase of 5.3%. The total number of students in schools reached 165,300, up 6.7%.
The scale of secondary vocational education has expanded. In 2008, a total of 256,700 students were recruited, down by 2.4%. The number of students in schools reached 590,900, up 7.2%, compared with 551,100 persons in 2007 (excluding technical schools).