On March 8th , the signing ceremony was held in Hanban (Confucius Institute Headquarters) to celebrate the success in bidding for hosting "the Luleå Confucius Institute" by our university, Luleå city of Sweden and Luleå University of Technology. Ms. Xu Lin, the director of Hanban (Confucius Institute Headquarters), Yvonne Stålnacke, Mayor of Luleå, Johan Sterte, President of Luleå University of Technology and Xu Delong(Academician), President of Xi'an University of Architecture and Technology attended the signing ceremony.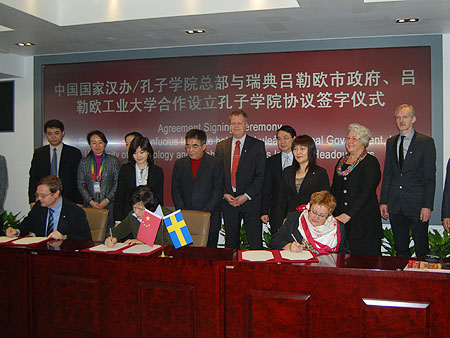 At the ceremony, Xu Lin and Yvonne Stålnacke gave a speech successively and congratulated the establishment of "the Luleå Confucius Institute". President Xu Delong also made a speech that we have the confidence and ability to host the Confucius Institute jointly with our Swedish partner to make contribution to spreading Chinese culture and promoting Chinese language with the support of Hanban.
Soon after, President Xu Delong presented the Chunhua Bronze Tripod to Hanban as a gift. Inside the bronze tripod, there is an inscription of excerpts from the Analects of Confucius written by President Xu Delong: " My aspiration is to make the old live in peace and comfort, the friends trust each other and the young to be taken good care of." The Chairman of Party Committee of our university concerned very much about the bidding process for hosting the Confucius Institute, and wrote the calligraphy "Good Government close to people" and "God helps those who help themselves" to honor the Mayor, Yvonne Stålnacke and the Rector, Johan Sterte, respectively.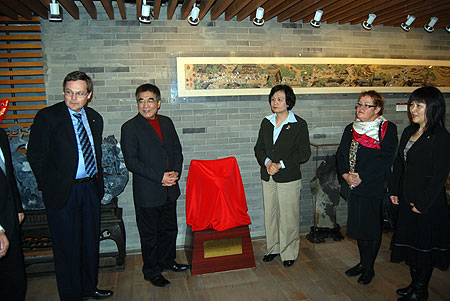 Shaanxi Provincial Education Department and some other universities in Shaanxi Province expressed their sincere congratulation to us for the establishment of Confucius Institute.