With the advent of spring, everything is fresh. A number of guests from overseas (outbound) universities are visiting XAUAT.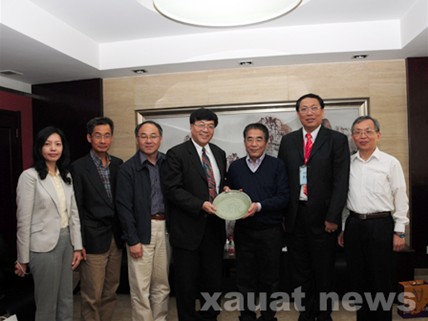 President Xu meets with the Delegation from Taiwan Yunlin University of Science and Technology
Since the beginning of this semester, delegations and professors from Northern Arizona University in America, University of California (Berkeley), Western Carolina University, University of Idaho, Concordia University in Canada, University of Hannover in Germany, Denmark VIA University College, University of Hokkaido, Tohoku University in Japan, Chaoyang University of Technology, Yunlin University of Science and Technology in Taiwan and others totally more than ten overseas (outbound) universities have visited our university and respectively communicated with School of Architecture, School of Civil Engineering, School of Environmental and Municipal Engineering, School of Metallurgical Engineering, College of Materials and Mineral Resources, College of Arts, School of Language, Literature and Law, College of Mechanical and Electrical Engineering and Huaqing College. President Xu Delong and Vice-President Wang Xiaochang also met with visitors. The delegation and guests carried out academic exchanges, in addition, negotiated the details about joint education programs, inter-school amicable agreement, exchange platform construction of "National Construction Project of High-level Universities" of Chinese Scholarship Council (CSC), exchanging teachers of TEFL(Teaching English as a Foreign Language) and TCFL (Teaching Chinese as a Foreign Language), students exchanges and condition improvements of studying and living abroad of our teachers and students. A consensus was reached on the mutual recognition of credit points and other aspects of "2+2" double bachelor degree, "3+1+1" bachelor-master double degree, and short-term exchange students. The effective implementation of these programs will play a positive role in promoting the pragmatic and multi-aspect development of international and Hong Kong, Macao and Taiwan exchanges and cooperation.