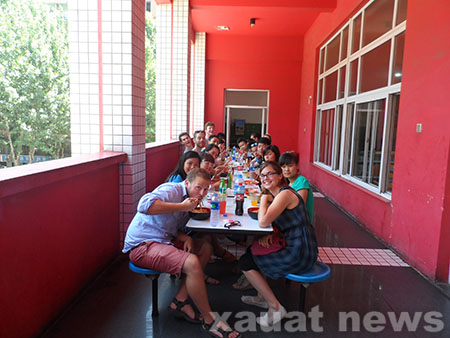 The 5th Sina-U.S. University Students Lingua-Culture Exchange Program has brought 13 American students to XAUAT campus for a monthly exchange with Chinese students majored in Teaching Chinese as Foreign Language (TCFL) as scheduled, ranging from June 3rd to July 1st. American students of Arizona University, North Arizona University, New Mexican University, University of Colarado Denvor got the opportunity to be exposed to Chinese language and culture with help of their Chinese partners in a whole month time. The program was initiated from June of 2009. Up till now, 5 groups of American students, more than one hundred in total, had taken part in this program and likely, more than three hundred and fifty Chinese students majored in TCFL and English had taken part in the program. Each year the program turned out to be quite successful and beneficial to students of both countries.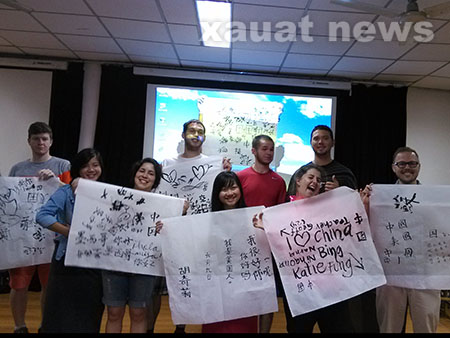 The Sina-U.S. University Students Lingua-Culture Exchange Program is focused on exchanges of language and culture of two countries. Presentations are mainly adopted and organized to achieve the goal. Each presentation covers two hours, during which students present Powerpoint courseware to show interesting topics like folklores, traditions, culture and arts, such as: Chinese food culture, American wedding custom, Chinese dances and costumes, American pop music and Hollywood movies etc. Students of both countries were so dedicated to the preparation of the presentations that they were innovative and creative to enrich their presentations with all kinds of improvisational performance, short play, interactive activities and demo classes etc. Students of both sides developed great interest in and were actively involved in discussing topics like culture, language, society, and history and so on.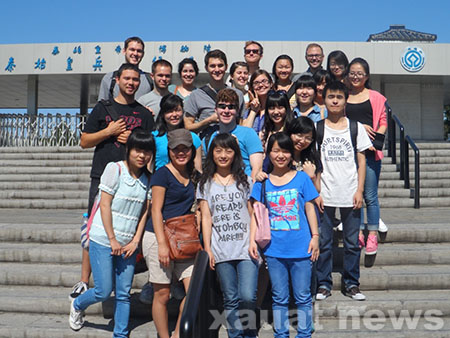 Additionally, a variety of activities were organized for American students to get exposed to different aspects of Chinese university life, such as English Corner, sports competitions, exchange of dormitories, pair-up to shop and to dine with Chinese partners, sightseeing at highlight tourist spots of Xi'an etc. From early morning on campus till late in the building of self-study with all lights-up, with birds chirping above as well as on the campus paths when heat of the mid-summer setting in, students of two countries paired up and had great time together.
The Sina-U.S. University Students Lingua-Culture Exchange Program indeed is an enrichment of university life. On the one hand the Program has served as a stage on which Chinese and American students can communicate across culture and language, and on the other hand it has opened a window through which students get closer to the outside world and are exposed to a foreign culture.