May 24th to May 26th, A group of eight professors lead by the president Dr. Roy F.Heynderick of the American Saint Martin's University, visited our university.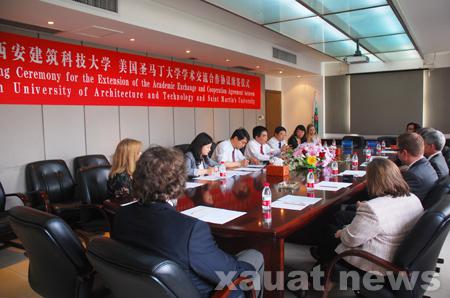 Talking together
May 24 afternoon, the president Academician Xu Delong met with Heynderick and his group. Both sides reviewed the history of cooperation between the two universities, and described the development respectively。President Xu indicated that: with the continuous improvement of the world economy and informatization, the concept of global village has been around, and the 'distance' is getting closer. Cultural blending is the most important aspect between oriental and occidental communication, China stands for oriental civilization and America as the representative of occidental civilization, if both sides facilitate the cultural blending constantly, and there will be a new human civilization. Saint Martin's University has sent excellent English teachers to our university and our President Xu greatly appreciated this collaboration. In addition, he expects that group of 20 students from our university will achieve splendid results in the Saint Martin's University during this summer vacation, also we can have more extensive and deep cooperation in the future. President Heynderick indicates that he is very pleased to see the beautiful XAUAT campus, beautiful library and building square. The year 1895 was significant for the both universities, because the both universities were founded in 1895; the year 2013 is very significant as well, because the two universities will renew the academic exchange agreement. The world is getting smaller, teachers and students from both universities will have more opportunities to go abroad for exchanges, developing their international perspectives and communication abilities and improving the internationalization level of education is one of the crucial tasks of high-level universities nowadays. Then, he hopes that the exchanging cooperation projects between the two universities could be implemented as soon as possible. After the talks, the universities renewed the exchange cooperation agreement. Mr. Pat Rants, Chairman of Saint Martin's University, Ms. Josephine Yung, Vice-president, and Mr. Marco Tulluck, Chief of International Project Department, and Liu Zishi, Director of the Headmaster's Office of our university attended the talks and the signing ceremony.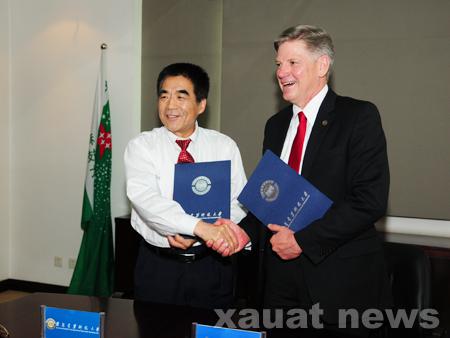 Two Presidents were exchanging the exchange agreement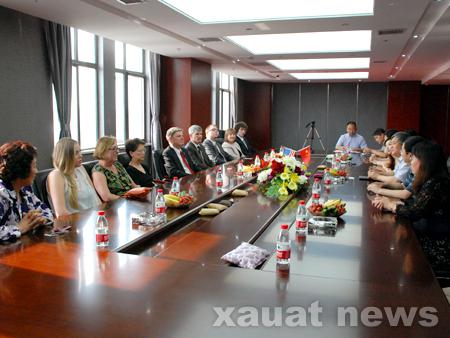 President Roy F.Heynderick was visiting Huaqing College with his group
Related information:
American Saint Martin's University was founded in 1895, which has the history of over 110 years. There are 1850 students on campus, and over 86% of teachers owning doctorate. The university establishes Department of Business and Economics, Department of Education, Department of Engineering, Department of Science and Education, Department of Humanities, Department of Social Science, over 20 undergraduate programs and 6 master degree programs. It is famous for Engineering, Education and Business Economics majors. Saint Martin's University is a four-year higher education institution which is approved by American College and University Northwest Committee, Washington State Board of Education and U.S. Immigration. Saint Martin's University is the member of American Association for Higher Education, and its oversea educational qualification is recognized by Ministry of Education of China. The university was appraised by "U.S. News And World Report" as the 61st in the ranking list of The Best Postgraduate University of Western United States in 2007.
Exchanges between our university and St. Martin University were started in 2007, and an inter-school exchange agreement between the two universities was signed in October 2008, St. Martin University is our first friendly institution in the United States.